EcoIndustria LT cluster goals 2022-2030:
To increase the horizontal and vertical integration of GREEN DEAL technologies into the processing of secondary raw materials;
To increase the production and export of secondary raw material products with high added value;
To create prerequisites for increasing the international competitiveness of cluster members in the development and adaptation of GREEN DEAL technology competencies.
The mission of the EcoIndustria LT cluster is the development and application of innovative products and technologies in various areas of economic and social welfare development, processing secondary raw materials, connecting raw material suppliers, processing companies, attracting scientific, educational and investment opportunities.
Cluster vision: to become a competitive GREEN DEAL products and technologies development group in Europe, uniting production-technological, scientific, professional, etc. resource.
The aim of the EcoIndustria LT cluster is to promote the implementation of GREEN DEAL modern technologies and the production of ecological products in Lithuania using the development principles of the "Circular Economy", the human, technical, scientific and capital capacities of the cluster members.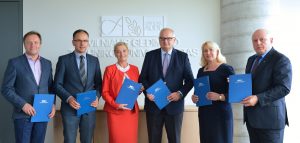 Coordinator
Alytus Business Advisory Center

Alytus Business Consulting Center provides the following services:
"BUSINESS START UP": Legal documents and service for establishing companies.
"VIRTUAL OFFICE": Legal address of the company, administrator, accountant, etc.
Creation of the BRAND of company:
 Logo, letterheads, business cards;
 Creation of promotional banners;
 Layout of advertising flyers;
 Visualization soc. for networks, website development.
ACCOUNTING services;
INFORMAL TRAINING PROGRAMS: Business "START UP"; Management; Finance; Marketing etc.;
SEMINARS on accounting, labor laws and other company management issues;
PROJECTS FOR BUSINESS DEVELOPMENT, R&D, CLUSTERS, internships, international cooperation. PREPARATION, COORDINATION AND ADMINISTRATION.

We have specific experience on sectors, relevant to this project:
1. Erasmus+ KA2 project "Employer Empowerment to Attract, Transfer and Keep Young People In Metal Industries"/AttTraK/ No 2018-1-DE02-KA202-005206.
The main goal of the project: transfer of the best practices and identification of vocational training possibilities and future perspectives, attracting and retaining young people in the metal, machinery and engineering sectors.
2. Interreg V-A LT-PL cooperation program project "Increase Competitiveness of the PL-LT Borderline Through Development of Clustering Services" /"IncomClus"/ No LT-PL-1R-032. Partner coordinator, 2017 02 01 – 2018 01 31.
Main goal – to increase competitiveness in metal-mechanic and related branches within the Polish – Lithuanian border.
The main ACTIONS: Cluster's Academy (General and Technical Training for companies); Business support services (conferences, workshops);Interdisciplinary Creative Groups;
Competence and vocational training for students; Founded"COOPERATION PLATFORM FOR IMPROVING QUALITY OF PROFESSIONAL TRAINING", LITHUANIA / POLAND
OUR CREDO –  Only the one who goes, has results.
ALGIMANTA SCIGLINSKIENE
Alytus Business Advisory Center Director
S.Dariaus ir S.Girėno str. No 2,LT-62137, Alytus, Lithuania