Lithuanian prefabricated wooden house cluster – PrefabLT
Lithuanian prefabricated wooden house cluster – PrefabLT unite Lithuanian wooden panel, timber-frame and modular house manufacturers, engineering companies and suppliers. Cluster members – well-known and trusted market leaders that offer high quality, client oriented products, services and solutions. All member products meet top-end international quality standards. PrefabLT companies are export oriented and in total more than 90% of manufactured products are being exported to foreign countries. The main export markets for cluster companies are Norway and Sweden.
PrefabLT mision:
Unite, represent and publicize Lithuanian timber-frame, panel and modular wooden house manufacturers, designers, builders and related suppliers in order to contribute to the growth of sector companies' value in a successful and significant manner.
PrefabLT vision:
Fully representing sector companies and becoming a reliable quality mark we strive to make Lithuania the leading country for wooden prefabricated house manufacturing in Eastern Europe.
Long-term PrefabLT cluster activity orientation:
Awareness growth
Collaboration between members
Unification of sector companies
Competence development
Innovation fostering
Improvement of national quality standards
Lobbying
On April 25th, 2017, PrefabLT Cluster was benchmarked amog Europe's manufacturing sector clusters and awarded with "European Cluster Excellence Initiative Bronze Label" certificate.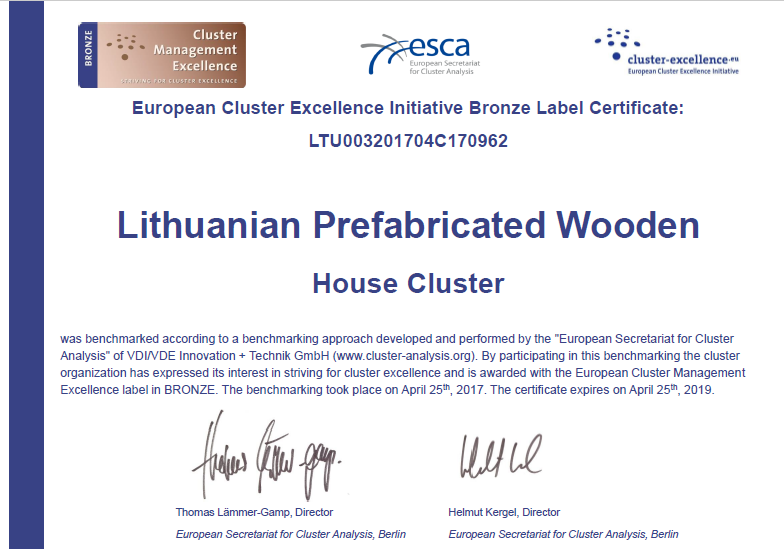 Coordinator
Lithuanian prefabricated wooden house cluster
Cluster coordinator – Association "Energy efficient and passive house cluster", was established in 2014. At the moment association have 11 members – wooden prefabricated house manufacturing, engineering companies and related suppliers. Total revenue of cluster companies (excluding suppliers) were 65 mil. Euro (year 2016). The main goal of the association is sustainable and long-term cluster development.